We all know the amazing healing properties of Aloe Vera for our skin, but can the same be said for our hair? Research has shown that Aloe Vera shampoo may actually help with dandruff relief, and that the plant compounds may also help promote healthier hair!
What Is Aloe Vera Known For?
Aloe Vera is a plant that has thick leaves, which have a gel like substance inside of them. It can be found all over the world, and some people even grow their own!
Aloe Vera gel is cooling and soothing if applied to the skin, which is why it can be used to treat burns and skin wounds, including sun burn!
Aloe Vera has been used for centuries due to its healing properties, some claim that is also has many other benefits besides using it on your skin, including strengthening hair and making your scalp healthier.
---
What Does Research Say?
Research (https://www.ncbi.nlm.nih.gov/pmc/articles/PMC2763764/) says that Aloe Vera on the hair can be really beneficial due to its:
Anti-inflammatory actions which can help soothe scalp irritation
It's moisturising effect
Enzyme and fatty acid content which can help reduce inflammation
Vitamins C, E, B-12, Folic Acid, and Choline Content that can help nourish and also strengthen the hair
And all these benefits are why aloe is a key ingredient in many Odylique products – from our Repair Lotion and other moisturisers, to shampoos, deodorant and bodywashes.
With its cooling and anti-inflammatories properties, it is one of the most natural remedies for sore skin. Applying Aloe Vera helps form a protective layer for the skin, and it also helps it retain moisture! It is rich in antioxidants and minerals that boost the healing process, which is why we love it!
---
Other ways to use Aloe Vera in your hair:
Anecdotal evidence shows that Aloe Vera has so many more benefits for our hair, including:
Strengthening and conditioning natural hair
Promoting hair growth
Smoothing natural curls
Locking in moisture
Reduces frizziness
Detangles knotty hair
---
How Can I Use Aloe Vera In My Haircare Routine?
Aloe Vera Shampoo
It's really easy to add Aloe Vera into your hair care routine. Simply look for products containing the super-soothing ingredient, such as an aloe vera shampoo or aloe vera hair mask, or even scoop it out of leaves cut fresh from a live plant if you have one! The gel is clear in colour, and slightly watery.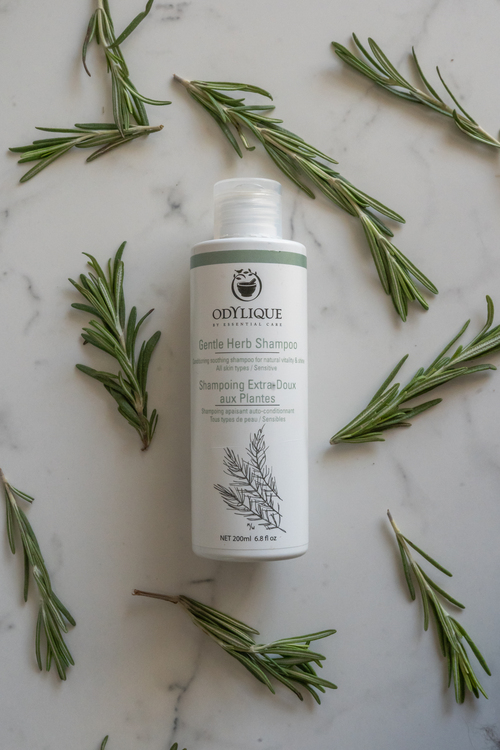 If you're on the hunt for an organic Aloe Vera shampoo, why not try out our best-selling Gentle Herb Shampoo? It's moisture-locking properties will help bring hair back to life, leaving it shiny, strong, and conditioned, and your scalp feeling soothed.
Aloe Vera Hair Mask
If you feel you need a deeper treatment, one of our Conditioners (both are rich in aloe), would make a great scalp mask. Indeed, our Lavender Conditioner won best scalp treatment at the Beauty Bible awards!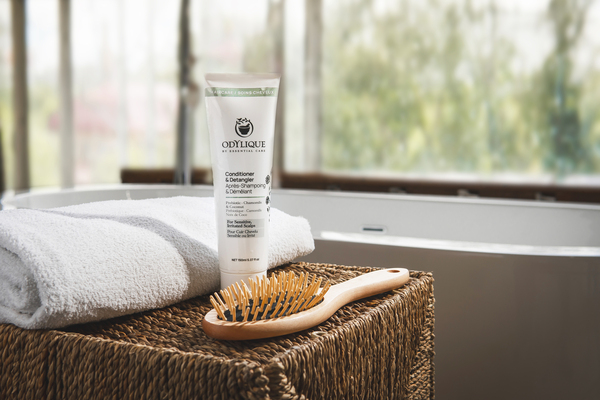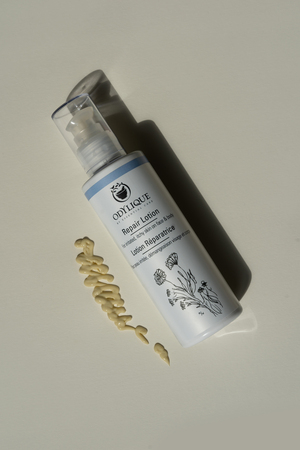 Similarly, Repair Lotion, is known to be very soothing on scalps prone to eczema or psoriasis.
If you're interested in trying our Conditioners or Repair Lotion as a hair mask, here's how:

1. Take your product of choice and massage into the scalp and through the ends of the hair.
2. Make sure your hair is covered from root to tip.
3. You can leave the lotion in from an hour, or overnight!
4. Wash out in the morning, making sure to remove any residue.
Rubbing Aloe Vera into your scalp and letting it penetrate your hair follicles will help re-condition and improve dry, damaged hair. Once you've let it sit for an hour, rinse the gel off with a mild shampoo.
---
Why Choose Organic?
You may be overwhelmed by the hundreds of Aloe Vera products on the market. It may be difficult to tell the difference between the greenwashed ones and those that are truly natural and organic.
Greenwashing is when a company or organisations spends more time and money on trying to market themselves as environmentally friends, rather than actually minimising their environmental impact. This type of advertising can mislead consumers who prefer to buy goods from environmentally conscious brands.
Rather than using chemicals and synthetic ingredients, which you would find in conventional cosmetic formulas, organic beauty products use natural ingredients derived from plants, which have real benefits for the skin. Here at Odylique, we are independently certified organic by The Soil Association, which makes us a well trusted brand within the organic beauty industry.
Allergic to Aloe Vera?
Many people mistakenly believe they are allergic to Aloe Vera, when in fact, it's other ingredients they are allergic to, which is greatly reduced when you choose a completely natural product. The basic rule for all organic skincare products is that they have to be certified free of GMOs, parabens, PEGs, phthalates and mineral oils. They also have to be free of synthetic chemical components, petrochemicals and synthetic colorants and fragrances. These are just a few of the many irritants in conventional formulas.
You can read more on potential allergies on our blog - https://blog-odylique.co.uk/aloe-vera-juice/
---
Aloe Vera Shampoo For Skin Conditions
Eczema
Aloe Vera is often recommended as a natural, gentle moisturiser for dry skin. According to a 2015 systematic review study, aloe vera has the following properties that may help with symptoms of eczema:
Antioxidant
Antimicrobial
Immune-boosting
Wound-healing
Eczema causes the skin to crack and bleed, meaning you could be more likely to get a skin infection. The antimicrobial effects of aloe vera may help prevent these infections, while the wound-healing properties help patches of broken skin to heal more quickly.
Our Repair Lotion uses Aloe Vera and many other incredible ingredients to ease itching, promote healing, repair and to protect your skin.
"I give Odylique's Repair Lotion five stars. My skin has become damaged from years of eczema and psoriasis. The Repair Lotion is very soothing. I can use it on my face and body without any problems. The lotion quickly dries unlike petroleum based creams. I feel much healthier using organic plant based ingredients which haven't been tested on animals." – Odylique Customer
You can read more about the effects of Aloe Vera on eczema prone skin in this blog article.
Psoriasis
Psoriasis is a skin condition resulting from a problem within the immune system. It causes excess skin cells to form inflamed, scaly plaques on the skin.
There is currently no cure, but a variety of treatment options can help relieve the symptoms. Some people believe that aloe vera can alleviate both skin and joint related issues that arrive from psoriasis.
Research suggests that compounds in aloe vera may actually reduce inflammation of the skin, and help modulate the immune system. These elements may allow aloe vera to soothe skin, reduce inflammation and help keep the skin from drying out.
Our Aloe Vera Body Wash is creamy, moisturising and luxuriously enriched with organic extra virgin olive oil which has terrific skin-conditioning properties, plus biodynamic calendula herb to soothe. It uses a mild cleansing agent, derived from corn sugar, which is much gentler on sensitive skin than the harsh, widely used sodium lauryl sulphate.
Internal benefits of Aloe Vera
Aloe Vera is best known for treating skin burns and wounds, but drinking this healthy elixir in a juice form can actually provide you with a variety of health benefits, including the treatment and prevention of hydration, supporting healthy liver function, treating constipation and also encouraging clear skin.
Some people even keep aloe vera juice on hand for a number of beauty and health needs! Try using it as a makeup primer, make up remover, sunburn soother and a lightweight moisturiser!
---
More Advice?
If you'd like any more advice on aloe vera shampoo or any of our products, please do email us – customercare@odylique.co.uk, add your question as a comment below, or call 01638 491022 – we're here to help!