We are jumping for joy… our new Lavender Conditioner & Detangler has received a gold medal for Best Scalp Treatment and Best Natural Scalp Treatment in this year's Beauty Bible awards!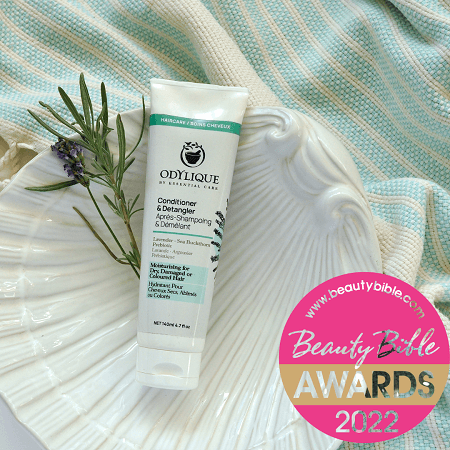 What are the Beauty Bible Awards?
Now in their 26 th year, the Beauty Bible awards are simply unique. They're not about taking one judge, journalist or influencer's word for it. Beauty Bible organises the biggest independent survey of beauty products ever carried out in the world. Each product is tested by 10 women, and it is their scores which determine how well the products do. As the co-founder of Beauty Bible, the iconic beauty journalist Jo Fairley, says, 'that number of product testers gives a great consensus of what real women experience'. No other beauty awards put products through their paces quite so thoroughly. Testers must give detailed feedback based on use over a period of time and are encouraged not to mince their words!
Competition is fierce with thousands of products entered across the categories. Entrants range from household names like Clarins to smaller independent brands like us. So to have won the award for Best Scalp Treatment is really something!
What did Beauty Bible testers say?
The great feedback from testers has really bowled us over. Like with our own customers (see below) we've been particularly happy to hear how the Conditioner worked on problem scalps:
"10/10. I have a dry itchy scalp and this improved the itchiness immediately."
"'I have quite a dry scalp and dry hair and this has really helped with the condition of both. From the very first use I loved this product."
"…causes no irritation at all to my sometimes sensitive scalp and indeed seems to make it calmer. I shall definitely be purchasing in the future as it works like a dream on my dry fizzy hair and makes it look shiny and healthy."
"I did use it as a hair mask overnight and wow! What a great difference it made when I washed it out the following morning."
All this led to the Best Scalp Treatment award, but as the Conditioner is also entirely natural (and certified organic and silicone-free), it also won Best Natural Scalp Treatment.
What is in the conditioner that made it the Best Scalp Treatment?
To be honest, we designed this product originally as a hair detangler to go alongside our organic shampoos . -For people with curly or very long hair. But we love our products to be multi-taskers too. It cuts down on waste and the number of products you need to buy.
We use aloe vera juice, nourishing avocado, strengthening sea buckthorn, shea and virgin coconut to provide essential nutrients and moisture. Essential amino acids smooth, repair and detangle, while a prebiotic chicory extract contributes toward a healthy-looking scalp by balancing the skin microbiota.
What do Odylique customers say?
"This works! I have coarse, curly hair and this beautiful smelling conditioner smoothed it without weighing it down or making my scalp itch. Also, I didn't need to use as much as with other conditioners. I have used many different clean ingredient conditioners over the years including some ultra expensive ones but this is the first to tick all the boxes and not irritate my scalp." Elizabeth
"…Best part is [that my] scalp psoriasis is reducing." Margaret
"I wasn't expecting to like this conditioner as much as I do, I think it's brilliant. It's comparable, possibly even better, to "clean" conditioners that cost twice or three times as much. I have fine, highlighted, wavy hair and have found this to give the most fantastic shine without weighing my hair down or leave it looking greasy. The smell is divine!" Helen
You can buy Lavender Conditioner and its sister product, the unscented Prebiotic Coconut and Chamomile conditioner here.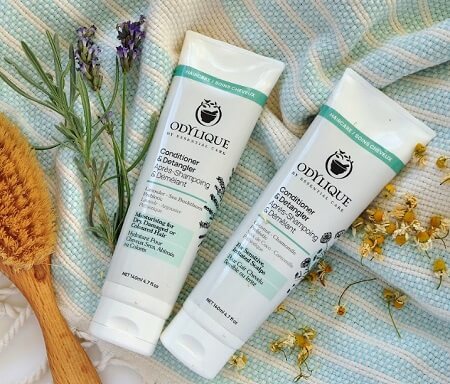 If you have any questions or need product advice, please do get in touch – we're here to help on 01638 491 022 or customercare [at] odylique.co.uk.