Rosehip oil's benefits for the skin have long been known in organic beauty circles. However, it is only very recently that the mainstream beauty world has woken up to the power of Rosehip oil to encourage the sort of glow that laboratory synthesised brands spend many years and many thousands trying to recreate.
---
A History Of Rose Hip Oil
The history of rosehip oil use in beauty goes all the way back to Egyptian times, when women would use oil cold-pressed from rosehip seeds to heal and treat a multitude of skin complaints. Evidence of rosehip oil use has also been found in Mayan and Native American Indian cultures. More recently, people have also taken advantage of Rosehip internally, eating the hips with the seeds removed as a food supplement, either raw or turned into syrup.
How Does Rosehip Benefit the Skin?
Fantastic Phytosterols for Cell Formation
Rosehips are full of fantastic phytosterols: components of the skin that are responsible for cell structure formation. These phytosterols are also precursors of hormones that have a number of positive effects on the skin: Collagen synthesis, cell division, barrier formation and hence prevention of moisture-loss are all driven by phytosterols.
You can literally see these wonderful plant nutrients from the vibrant colour of a good rosehip oil.
Omega Fatty Acids for Skin Cell Structure
Secondly, rosehip oil contains high levels of natural omega fatty acids (3, 6 and 9) which help support the skin structure in a very skin-compatible, skin-friendly way. Omega 3 (linolenic acid) and Omega 6 (linoleic acid) are important factors in reducing both scarring and inflammation. This strong anti-inflammatory property is another powerful weapon in rosehip's anti-ageing armoury.
The Rosehip's anti-inflammatory, anti-oxidant properties make it particularly effective in skin care for premature ageing and mature skin. The skin revitalises naturally and becomes soft and smooth. Its regenerative qualities are helpful with scarring (e.g. acne marks) and evening out skin tone.
Vitamin C for Skin Repair
On top of that, rosehips are high in vitamin C, a key ingredient in skin repair that is antioxidant and stimulates production of collagen. Antioxidants are important because they fight against free radicals (generated by sun exposure) that cause our skin to age prematurely.
In very simple terms, this all means rosehip has all the tools for a great natural anti-ageing, anti-dullness ingredient. Moreover, rosehip oil benefits the skin by being light and easily absorbed, making it ideal for many different skin types.
---
Which Sort of Rosehip Benefits Skin?
Not all rosehip oils or extracts are made equal.
The best way to we believe to take advantage of Rosehip oil's skin benefits is with a 'supercritical' CO2 extract. This is a cutting-edge, 'green' method of extracting nutrients from plants that concentrates their powers many times over and keeps active components intact.
Research has demonstrated that the essential fatty acids contained in rosehip CO2 extract help calm inflammation whilst the phytosterols work to support skin structure, vital for anti-ageing.
And finally, always look for organic extracts of rosehip. Research shows that organically grown fruit has significantly higher levels of antioxidant vitamins that help protect the skin against free radical damage – than non-organic.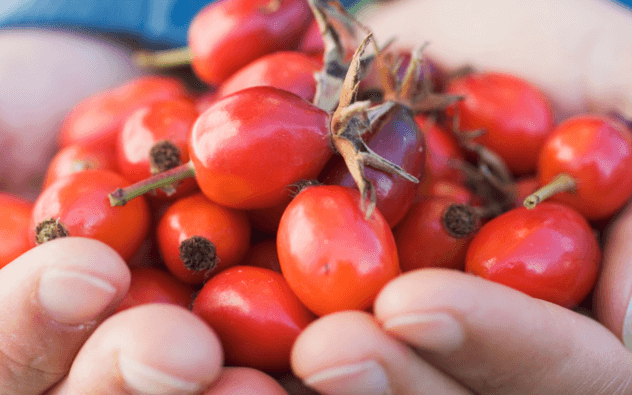 Odylique Products with Rosehip
"Miraculous! This is one of the best skin treatments available. It moisturises, gives skin a natural looking glow and eases irritation." Julia
An exceptional synergy of 5 omega fatty acids, plus antioxidant vitamins and nature's miracle phytosterols, to target all aspects of skin ageing. Use this super serum daily or as needed to boost moisture, cell renewal and collagen synthesis for smooth, instantly radiant skin. Smooth 2-3 drops over the skin daily or when your skin needs an instant radiance boost. It's the ultimate pre-party pick me up (also makes a great base for makeup), or morning-after 2 second rescue.
Actives: Smoothing and cell-renewing rosehip ~ Cell-regenerating and UV-damage protecting sea buckthorn ~ Protecting and repairing pomegranate ~ Hydrating and vitamin-replenishing avocado 100% natural, 100% organic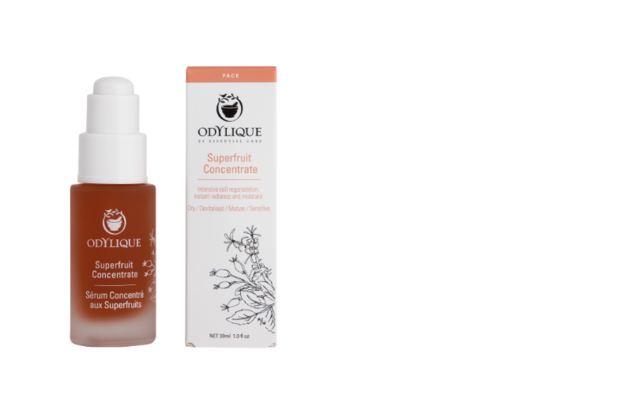 "I can't live without it" - Denise van Outen
A luxurious, antioxidant day cream that has recently been enhanced with a powerful rosehip extract to complement the soothing, regenerative organic rose. This 'even rosier' version of Essential Care's original Rose Moisturiser is 100% natural and excellent for sensitive, rosacea-prone skin.
Actives: Calming & restorative rose water and rose ~ Rejuvenating and smoothing rosehip ~ Pro-collagen sea buckthorn (a rich plant source of a natural component of our skin, an Omega 7 fatty acid, the production of which declines with age) ~ Soothing and moisture-locking aloe vera ~ Hydrating jojoba and coconut ~ Protecting & moisturising raw shea. 100% natural, 94% organic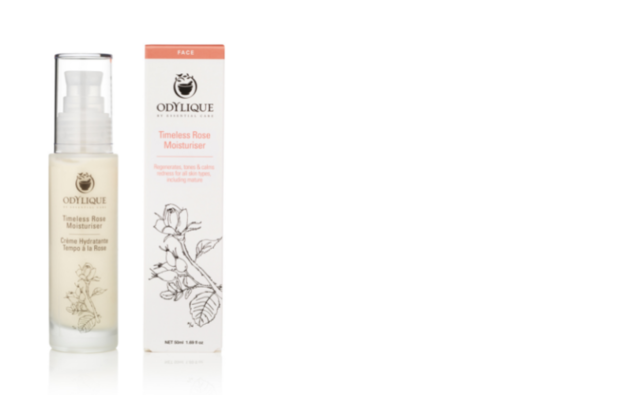 ---
Want To Try Our Products?
We only source the kindest ingredients from trusted suppliers who don't practice unethical or cruel methods of farming, which is why we are able to label every single one of our products cruelty free!
We also offer a wide range of samples for those of you that would rather try a smaller quantity before purchasing the full item!