Finding the best washing powders for eczema is one of the big challenges for anyone suffering from this uncomfortable skin condition. Even for those who don't suffer with eczema, many suffer rashes and other skin irritations from what they think is a washing powder allergy.
Baby skins especially are sensitive and reactive and need a very light touch when it comes to detergents.
Abi and Margaret, Odylique's founders, experienced eczema themselves and Odylique was founded to create organic skincare that meets the needs of very sensitive skin, so this is an important issue for us.
In this article we'll explore:
Why eczema prone skin benefits from the right type of washing powder
Why some washing powders are more harmful for eczema prone skin than others
What we think makes the best washing powder for eczema prone skin and why
What 7000 of you across our channels told us about eczema and washing powder
---
What You Say About the Best Washing Powder For Eczema
In a poll of over 7000 users across our social media channels, every single person with sensitive skin and eczema said that washing detergents were a key trigger for skin flare-ups.
This was especially true for the appearance of child and baby eczema, for whom washing powders could cause very serious flare-ups.
So we decided to hunt down the best laundry products for eczema and allergy sufferers. We researched forums, the National Eczema Association, consulted allergy experts and asked many of you who experience eczema.
And the results were pretty surprising!
So here it is; the definitive guide to the best washing powder for eczema and sensitive skin.
We'll also explore:
The best washing powder for babies
Best natural washing products
Palm-oil free detergents
---
What is The Best Washing Powder For Eczema? - Our Thoughts
Your choice of best washing powder for eczema varied hugely. And it threw up some real curveballs.
Firstly, we thought that biological powder would be a no-go for eczema sufferers - It has long been thought that enzymes in biological powder caused dryness and irritation.
But that wasn't borne out by our survey respondents or forum comments. Studies back this up - as explained in articles by allergy websites skin help and scratch sleeves. It may be the fragrance compounds that are the allergen culprits, less so the enzymes. – This is particularly likely if you get on better with fragrance free or organic makeup and skin care
Secondly, washing powder was still the first choice over liquids and (possibly because they are less well-known) eco alternatives. 65% of our survey respondents felt that powder offered unrivalled cleaning ability, freshness and cost-effectiveness.
A number of people, like Netmums user Kenneth W, suggested that the heavy build-up of scum in washing machines and on clothing is why liquids aren't as popular.
---
The Top 3 Brands of Washing Powder for Sensitive Skin
Ecover Non-Bio Washing Powder
Ecover washing powder was the most popular option for highly allergy prone skin. Across the board this powder rated highly with both our respondents and users of the Talk Health forum.
Cited as very friendly to the skin without compromising cleaning ability, it was praised for being effective at 30 degrees which is both more economical and environmentally friendly.
It is completely enzyme and optical brightener free, made from plant and mineral based ingredients and holds the Good Housekeeping Standard.
The powder comes in large sizes and is available online here for £14.40 (3kg for 40 washes), making it a more premium option.
The non-bio powder does have a light scent, and if you'd rather go for 0% fragrance, there is the Ecover Zero Sensitive Non-Bio - albeit more expensive at £10.75 for 1.875kg.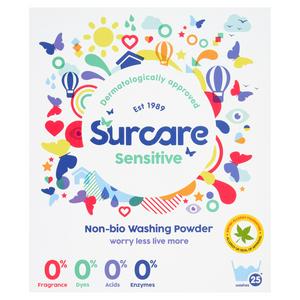 Surcare Non-Biological Washing Powder:
Surcare's non-bio powder was another keen choice. Despite containing optical brighteners and 5-15% bleaching agents, many eczema sufferers find their skin is quite tolerant to this non-biological powder.
Particular praise was offered up for its cleaning ability and also the fact that it is not tested on animals. At £6.45 for 25 washes it is a little cheaper than Ecover, but still a more premium option, although users have suggested it goes a long way, so can be used sparingly. Available online here.
Tesco Biological Washing Powder:
Showing just how different the solution to washing products for sensitive skin can be, the surprise inclusion in the list is Tesco's Everyday Value budget biological washing powder. Some people thought that the low price tag could mean less scent and less irritation as a result.
£2.50 for 30 washes, but currently unavailable online.
---
Top 3 Washing Powder For Babies With Eczema
Little is more upsetting than seeing a child struggle to cope with allergy-prone skin. Itching and scratching can be a particular problem, leading to infection and scarring in smaller children unable to relax or understand why they are so uncomfortable.
For this reason, finding suitable laundry products for eczema ranked very highly for parents keen to soothe their children's distress and improve skin health.
Alternative tips for helping your child's eczema include providing cotton gloves to stop scratching and using natural fibres in their clothing, and also rinsing all clothing and bedding on a hot wash twice to ensure that every last scrap of detergent was rinsed from the fabric.
Fairy Non-Biological Washing Powder
Many parents both in our survey and on sites like Talk Health cite Fairy's non-biological washing powder as a life-saver for washing nappies and heavily soiled garments for their children in.
Independent tests back up that the pH of clothing washed in Fairy is identical to that of clothing washed in water alone, and whilst it is neither scent, nor optical brightener free it is still widely regarded as the first choice of washing powders for concerned mums.
The 40 wash pack is available from most supermarkets including online here at Morrisons for £9.
Violet's Laundry Powder & Liquid
This scent-free, natural washing powder is super popular with parents choosing to use cloth nappies, so is highly effective. Also suitable for adults, the washing powder was designed for allergy and eczema prone skin.
Little Violet's Laundry Powder is available on the Babi-Pur website online here from £7.80 for 500g, or the liquid version (above) is on The Natural Store at £7.20 for 1l (25 washes), making it a premium option. But it has 5 star ratings across the board and claims to be cheaper per wash than Fairy non-bio, Ecover, Alma Win and Simply.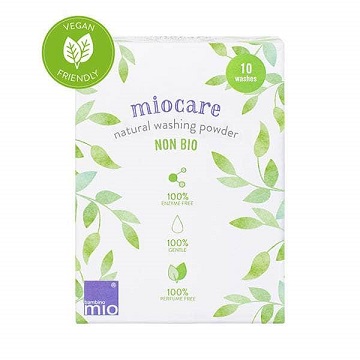 Bambino Mio Care
Gentle, enzyme free washing powder designed to tackle reusable baby nappies - even at 30 degrees.
Contains no fragrance or optical brighteners, vegan friendly and not tested on animals - so as kind to the planet as it is to your baby.
At prices starting from £3.99 for 800g this is our winner in the outstanding value stakes.
Try Bambino Mio washing powder here
---
Natural Eczema Friendly Washing Powder
If you're keen to go natural, there are some other great choices. Less well known than the mainstream brands, so on large forums like Netmums, the following brands' popularity might be understated. Here are the favourites: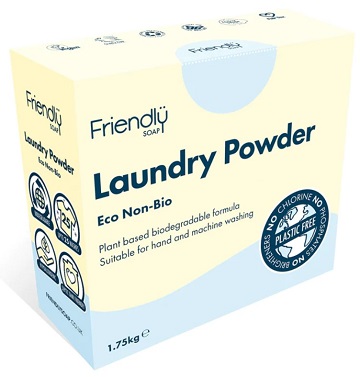 Friendly Soap Eco-Friendly Soap Powder:
Non-bio, eco-friendly, plastic free and hypoallergenic, this powder is an ideal choice for those of you who care not just about your skin, but also the planet.
From £8.95, available here.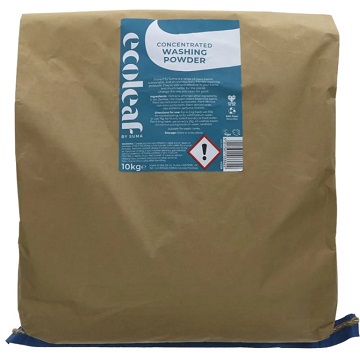 Ecoleaf Concentrated Washing Powder
Made from biodegradable plant extracts and free from enzymes and colourants, this brand is a firm favourite with vegans and those with eco-concerns.
Fully animal-friendly, the product is claimed to smell pleasant and wash well and despite being a biological powder, a number of people found it an excellent washing powder for eczema.
The bags range in size with a 10kg bulk bag costing £41.99 online from Ethical Superstore.
The 5l liquid version is also available from Ethical Superstore.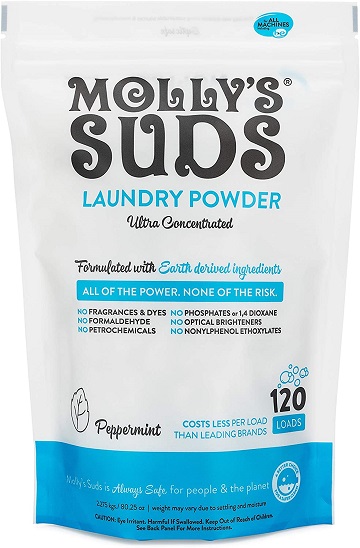 Molly Suds Original Laundry Powder
Molly Suds is a great natural cleaning brand, initially launched in the US and now available from select retailers in the UK.
Original Laundry Powder or their baby version are great alternatives for those with sensitive or eczema prone skins.
The main ingredients are sodium carbonate and sodium bicarbonate. It's vegan and cruelty free, but pricier than other options, with prices starting at £27.
---
Natural Eczema Friendly Liquid Detergent
While our survey indicated a preference for washing powder, research shows that liquid detergents are more water soluble and may be less likely to leave residue on clothes. A number of respondents backed this up, finding that their eczema tolerated liquids detergents far better.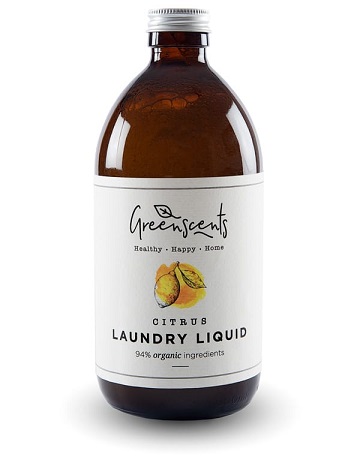 Greenscents Liquid Detergents
We are big fans of Greenscents range of eco-friendly, organic home cleaning products and we are not the only ones. Many eczema sufferers highly rate their laundry liquid as soothing and effective both for their clothes and their skin. Their range comes different scents, including their 'nonscents' range for those searching for something super-gentle & fragrance free!
The highly concentrated formula only requires 30ml for a full wash, which is not only economical but also means less likelihood of product residue, backing up expert theory of the use of clothes washing liquids.
Greenscents is available online from £7.20 for 500ml, here.
Faith in Nature Intensive Concentrated Laundry Liquid
A popular choice for vegans, this cruelty-free liquid is also paraben and bleach free, and offers excellent cleaning at lower temperatures. It does have a light smell but even those who have experienced severe reactions to MI (an allergenic ingredient in some conventional beauty and skincare products) find this washing liquid soothing and effective.
Available in bulk, from £25.99 for 5 litres (150 washes) online here.
---
Soap Flakes Vs Washing Powder
Soap flakes are increasingly popular in place of washing powder for people suffering from eczema, psoriasis and skin allergies.
Soap flakes are thought to be effective as they usually contain no enzymes, optical brightening agents, colour or fragrance and are widely considered to rinse out more effectively then powders.
Playlearn Pure Original Boxed Soap Flakes
Unfragranced soap flakes which dissolve in hot water can also be used around the house for other jobs, beneficial to those particularly sensitive to environmental factors.
Available from Amazon, for £8.49 for 10 washes

Dri-Pack Liquid Soap Flakes
Fragrance-free liquid soap flakes with no optical brighteners, preservatives, bulking agents or biological agents, reportedly popular with parents and those with severe allergic eczema. With no animal ingredients and not tested on animals, this is also suitable for vegetarians and vegans.
Available from Amazon online here from £4.98 per litre.
---
Palm-Oil Free Washing Powder
If you're concerned about sustainable choices, and in particular about avoiding palm oil, washing products are a minefield.
Many washing products can be derived from palm-oil, including the very common sodium lauryl(eth) sulphate (SLeS).
The problem is that unlike in skincare, washing powders have no legal obligation to list ingredients fully on their packaging.
If ingredients are listed, here is what palm oil can appear as:
INGREDIENTS: Palm Kernel Oil, Palm Fruit Oil, Palmate, Palmitate, Palmolein, Elaeis Guineensis, Palmitic Acid, Palm Stearine, Palmitoyl Oxostearamide, Palmitoyl Tetrapeptide-3, Sodium Palm Kernelate, Hydrated Palm Glycerides, Ethyl Palmitate, Octyl Palmitate, Palmityl Alcohol.
It can also be under the following guises (although these can be derived from other oils too, not necessarily palm): Vegetable Oil, Vegetable Fat, Glyceryl Stearate, Stearic Acid, Sodium lauryl(eth) Sulphate.
Not all palm oil is responsible for rainforest and natural habitat destruction, but sadly, a lot is. The WWF website can help you ascertain if the palm oil is from an ethical, sustainable source.
Often it can be down to the individual brand whether you find a full list of ingredients. Waitrose takes a considerable amount of responsibility for this and list ingredients fully where possible on its website. It received the Ethical Consumer award for the best approach to palm oil in products.
Fysio
Fysio is a washing powder for newborn/ baby clothes, made purely from grated olive oil soap, with added chlorophyll (presumably for natural green colour), herbal extracts & essential oils.
Backed up by many 5 star reviews, it claims to have a disinfecting, antibacterial & antifungal action, without causing any irritations, allergies or any other dermatological conditions on sensitive baby skin.
Available on Amazon for £15.99 for 600g.
---
Alternative To Washing Powders
Our search found some really excellent advice and suggestions, as well as soapnuts which are completely palm oil free!

Soapnuts
Completely organic, ethical, skin-kind, eco-friendly and vegan, Soapnuts are nature's very own detergents. Originating in India, botanists rate their effectiveness so highly that they allegedly named it 'Sapindus detergens'.
As they are completely natural there are no fragrances, synthetic chemicals, brighteners or harsh ingredients and they are claimed to be effective from 30 to 90 degrees centigrade.
Soapnuts are available online here for £10.40 per kg (around 100 washes), making them a very economical washing option.
Ecoballs
Looking like little hollow plastic spheres, these work by breaking down dirt within the wash to naturally remove stains and grime without any washing detergent or soap at all, making these the most suitable options for eczema that can't even tolerate non-biological and scent-free washing powders.
Because they don't contain detergent they don't fade clothes, but with no optical brighteners they also don't brighten. They are also palm oil free.
Ecoballs are available for £21.99 at Big Green Smile. They say one Ecoball will last for 1000 washes, averaging just 3 pence per wash - incredible value.
---
Fabric Conditioners
Given that scent can cause such issues for eczema and allergy prone skin, whilst there are fabric conditioners available, most dermatologists and eczema experts recommend avoiding fabric conditioner if possible.
If you are finding that your clothing is becoming stiff or you live in a hard water area, a capful of white wine vinegar in your wash will help to remove traces of residue and soften your clothes without affecting your skin.
Also, if you miss the smell a couple of drops of organic essential oils can make clothes fragrant again without causing too much of a reaction risk. Citrus fragrances are often particularly pleasant.
Consider which 'builders' you use in the wash. These are ingredients like phosphonates, and sodium carbonate which is designed to 'soften' the water. If you really need these, a great tip from Scratch Sleeves is to add a tablespoon of soda crystals to the wash – reducing the number of chemicals, bleaches and fragrances to your washing.
Finally, always try to use an extra rinse cycle on your clothes to neutralise any 'surfactants' (chemical residues of degreasers that can really irritate the skin) remaining on your clothing post wash.
We hope you found our range of the best washing powders for eczema For more advice on eczema and allergy prone skin, be sure to check out the rest of our blog. We also provide information at the top of our product pages along with a lovely selection of suitable skincare for eczema. When it comes to eczema, it's important to consider all of the products you use and make sure they're as safe for eczema prone skin as possible. If you're currently suffering from a flare up, an eczema body wash with aloe vera will help soothe and calm the skin.
---
Why Does Odylique Care About Washing Powder?
Because we are passionate about the environment and non-toxic, cruelty free products. And also because we specialise in caring for sensitive, allergic or eczema prone skin.
Using certified organic shampoo, organic skincare and even natural cleaning products is a wonderful way to calm sensitive skin.
If you do find yourself with an itchy flare up, our Repair Lotion is a go-to soothing staple - read the reviews for yourself! Recommended by homeopathic doctors and thousands of loyal customers.
Or for very dry, irritable skin, Ultra Rich Balm is the favourite of thousands of customers: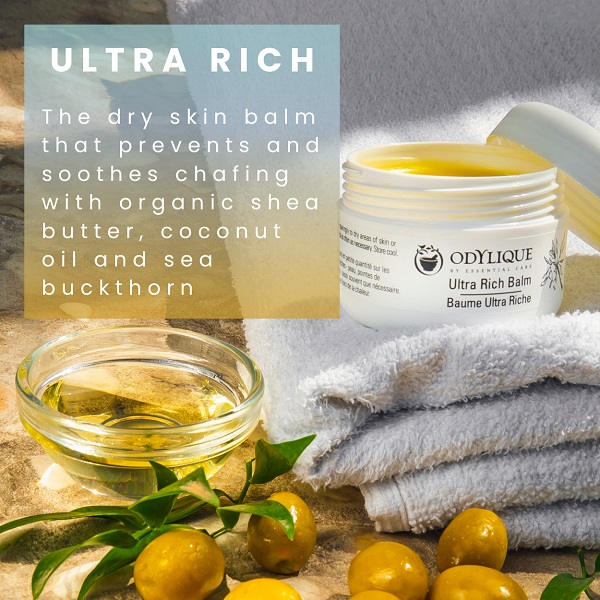 ---
More Advice?
If you'd like any more advice on caring for eczema prone skin, please do email us – customercare@odylique.co.uk, add your question as a comment below, or call 01638 491022 – we're here to help!