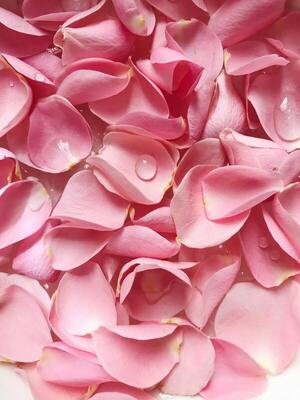 On the days when we're making our rose skincare products, Odylique HQ is filled with the gorgeous scent of rose water and rose essential oil... and an air of tranquillity descends.
Receiving a bunch of beautiful fragrant roses is guaranteed to lift the spirits and not just by virtue of their visual impact or traditional association with love, beauty and femininity.
Through Aromatherapy, we know that their glorious fragrance exhibits a positive influence on our mood and emotion via a direct connection between nasal sensors and the brain.
Dubbed the 'queen of oils', the exquisite essence of rose petals has long been acclaimed for its ability to lift the spirits and induce a positive frame of mind.
But rose can also be transformative for our skin.
How Rose Petals Benefit Skin
Rose benefits all skin types as it tones, hydrates and promotes elasticity and cell regeneration and is particularly indicated for sensitive, inflamed, dry, ageing or allergy-prone skin.
Many Odylique customers with inflamed skin conditions like acne rosacea and eczema have reported the very positive calming and hydrating benefits of our rose skincare, including Timeless Rose Moisturiser and Rose Super Tonic.
Revitalising, anti-ageing and cheering – what more can we ask!
What Makes Rose Skincare Rosy?
Rose skincare usually draws on two different extracts of rose, the essential oil and the hydrolat (rose water). Rosehip (the fruit of the rose once it has finished flowering) is also used in skincare. - Rosehip has terrific, but different skin benefits to rose, and no scent.
Rose Essential Oil
It takes the petals from around 60 - 100 entire rose heads (up to 1000 petals) to yield just 1 drop of precious rose otto essential oil. So, unsurprisingly it is the most precious and costly essential oil of all – substantially more so in organic quality. Good organic rose oil costs an eyewatering £7000 per kilo.
The composition of rose essential oil is very complex and so far has defied all attempts by cosmetic chemists to replicate its true fragrance in a lab. That's why so much of the non-organic rose essential oil produced in the world finds its way into high end perfumes.
Rose Water
Rose water (or hydrolat) is generally a by-product of rose essential oil distillation – valuable for skin care as well as a classic ingredient in genuine Turkish delight! Ours is a specific distillation of an exquisitely fragrant rose variety where all the valuable constituents, including the essential oil, are retained.
It takes 1 kilo of rose flowers to produce 1 kilo of rose hydrolat and whilst far less concentrated than pure essential oil, it contains all the valuable water soluble constituents of the petals including antioxidant polyphenols, flavonoids, vitamin C and other valuable components which help reduce inflammation and UV damage, promote hydration and collagen synthesis and encourage a healthy, more youthful skin.
---
Odylique Rose Skincare
We source all our fragrant extracts of organic rose directly from family-owned farms with a long history of expertise in growing and distilling the highest quality blooms according to organic standards.
The blooms are carefully hand-harvested early in the morning before the sun has chance to evaporate any of the precious essential oil from the petals.
Given the high cost of organic extracts in general, trusting their quality and purity is crucial. We love that they're all completely traceable from field to bottle and feel confident this contributes significantly to the safe, effectiveness of our products.
We make 4 skincare products with rose:
Calming Rose Super Tonic - for dry, sensitive, mature skin
Balancing Citrus Super Tonic - for combination or more oily skin
Unlike most tonics, ours contain no added water, only the nutrient rich rose water.
"This is a great toner for regular use but love it as a refresher in hot weather and it smells gorgeous and totally natural of the beautiful rose." Mary, Odylique customer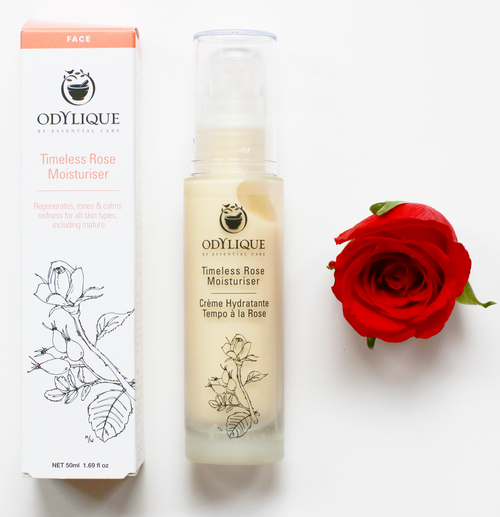 One of our hero products, ideal for most skin types, especially sensitive. Doubles as an eye cream due to its light texture.
"My skin has been quite inflamed these past few weeks with a rosacea flair, the first one in 10 years. I wanted to be sure of a moisturiser that would be really clean and feed the skin too. This is the one. I am using it as a night and day moisturiser and feel confident in using it." Jane, Odylique customer
Creamy Coconut Cleanser - Based on rose water. For all skin types and can be wiped or rinsed away - as you prefer.
"Wonderfully creamy with a light texture and delicate scent, this very effective and soothing face cleanser (even removes waterproof mascara) is a fantastic product and something I have been searching for for years." Rachel, Odylique customer
---
Want To Try Our Products?
We also offer samples of rose skincare for anyone who would rather try a smaller quantity before purchasing the full item:
If you have any questions, just get in touch - we're here to help: 01638 491022 or customercare [at] odylique.co.uk.