Nobody wants to deal with knots. Tangles aren't just annoying – they can be a real cause for concern to those suffering with thinner hair. And there are a million types of conditioner on the market, from detangling sprays and leave-in masks, to products that help co-wash for curly hair. But not all conditioner is created equal and the wrong sort of product can lead to damaged hair.
In this article we'll explain:
What goes in a conditioner and makes it work
Which conditioner ingredients lead to hair damage
Which is the best conditioner for different kinds of damage
Whether you actually need a conditioner
Natural conditioning options and tips for damaged hair
What's in hair conditioner?
Conditioners contain ingredients that prevent knots from forming and make the hair more manageable to work with.
They use at least one of the following ingredient types to either smooth the hair's surface or to impart a positive electrical charge to stop tangle-causing static:
Silicone – silicones act as a plastic coating to the hair, making it more pliable.
Quats - quaternary compounds, like polyquaternium-10, cetrimonium chloride or behentrimonium methylsulfate change the hair's charge to reduce static.
Oils – work especially well with damaged hair by filling in the 'pores' of the hair making it easier to work with/less likely to tangle. Pure unrefined plant oils and butters (organic if possible) offer the most nutrients to hair and scalp.
Acids – used to smooth and tighten strands by strengthening the bonds between keratin molecules in the hair. They also provide a better pH environment for the scalp, encouraging the follicles and hair shaft to lie flat, reducing frizz.
Proteins and Amino Acids – help rebuild the hair's keratin (a protein). They smooth the broken edges of the hair to stop it catching on other strands. Amino acids are the building blocks of protein.
All of the above can be effective at smoothing the hair and preventing tangles. But while oils, acids and proteins actively nourish the hair and scalp, silicone and quats can have side effects that aren't as desirable.
Which conditioner ingredients lead to damaged hair?
Silicone (often called dimethicone) is one of the main culprits for hair damage. It can give the appearance of healthy, glossy hair, but isn't actually doing anything for the condition of your hair.
Silicone coats the hair in a kind of plastic, which can weigh it down, causing it to look limp and lifeless over time. Ironically, silicone can also prevent genuine conditioning ingredients (and even the hair's own natural oils) from penetrating or lubricating the hair shaft. So in reality the hidden dryness and damage gets worse.
Needless to say, we'd always recommend both a silicone free shampoo and conditioner.
The best conditioner for different types of damage?
There are many different causes of hair damage. Your choice of damaged hair conditioner depends in part on your hair type and the extent of the damage. Here are some guidelines:
Fine Hair or Mild Damage:
If your hair is mildly damaged, with a little bit of breakage, and split ends, your best bet is a good cut and a silicone-free natural conditioner.
Fine hair won't cope with a very heavy conditioner and needs something much lighter to get great results.
Particularly good, lighter hair-loving plant oils or extracts to look out for are coconut, crambe, sunflower or broccoli seed.
Note that if your hair is very long, it's been around for a long time and will get damaged more easily. A trim at least every twelve weeks keeps this under control.
Very Damaged Hair:
If you have heavy damage, from bleaching or snapping, again you need to trim it regularly. Choose a mask or treatment that naturally supports the keratin structure of the hair.
Look for products with plant proteins - wheat, corn, kale, pea, brassica, carrot and soy proteins have been shown to achieve excellent results.
Steer clear of salon keratin treatments that promise silky-smooth hair. Not least because the straightening solution is often mixed with a formaldehyde derivative. And many commercial keratin hair products use keratin sourced from animals e.g. bristles from pig skin.
Very Dry Hair:
Very dry hair benefits from the use of warm oils once a week. Try this moisturising Macadamia and Argan Hair Oil from our sister brand, It's Pure.
Heat Damaged Hair:
Hair that is damaged from over processing and heat treatment should be protected with a heat defence spray (actually all hair should be protected when heat treating, but especially damaged hair), which stops further harm.
For a natural option, try Logona Aloe Vera Moisturising Heat Protection Spray.
Afro-Caribbean Hair:
Afro hair tends to be more porous, is brittle and needs richer conditioners or masks with ingredients like Shea Butter.
Grey or Thinning Hair:
Hair that is greying can benefit from an additional conditioning treatment that supports hair fall and reduces the likelihoods of further loss of colour.
Many people believe that the Ayurvedic herb bhringaraj is helpful in this regard. Bhringaraj powder can be made into a paste and applied to your hair as a mask.
Do I actually need conditioner?
Bear in mind that some people (usually with type 1 or type 2 hair) often find they don't need a conditioner if they use the right shampoo.
For example, Odylique shampoos with their gentle cleansing, phytonutrient rich formula are often used solo, as they don't strip the hair, and put lots of goodness back.
Natural conditioners for damaged hair
If you do use conditioner, Odylique's all natural, organic conditioners are packed with nourishing ingredients including coconut oil and a unique conditioning system of amino acids and prebiotics. They are ideal as a light rinse-out conditioner or can be left on for longer as a conditioning mask for very damaged hair.
They strengthen and smooth the hair, giving a soft luxurious feel.
The revolutionary all-natural, quat-free, silicone-free, sulphate-free, conditioning system also contributes toward a healthy-looking scalp by balancing the skin microbiota.There are 2 options: Lavender Conditioner / Detangler- winner ofBest Scalp Treatmentin the Beauty Bible awards - and the ultra gentle unscented conditionerwhich has won multiple medals in the Free From Skincare awards.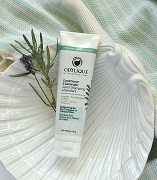 It's also an excellent choice for those with ultra-sensitive scalps (who may suffer with psoriasis or eczema) and children too.
Choose certified natural & organic for the cleanest formulas
Look for independent natural or organic certification! Whilst any company can give the appearance that their product is natural, there are independent bodies who assess which products really are the real deal. Odylique products, for example, are independently certified organic by the Soil Association, who have some of the strictest standards in the world to adhere to. Usually these products will have the association's logo on the packaging, making it easier to spot.
Many harsh and potentially irritating ingredients are banned in certified products. So it's also a handy way to avoid a couple of other ingredients found in conditioner that can damage your hair:
i) Artificial fragrance (parfum). It is lovely to have freshly scented hair, but fragrance compounds hang around in your hair and are one of the most common allergy triggers.
ii) Quaternium-15, a compound that's restricted in the EU to 0.2% concentration, but not controlled in the USA. It's a conditioning ingredient that can be irritant and may release formaldehyde. The Campaign for Safe Cosmetics suggests avoiding polyquaternium ammonium compounds (known as quats) altogether.
Follow these Natural Detangling Tips:
Gently brush hair before you wash it, to reduce the amount of knots you comb out when it's wet.
Whilst your washing your hair - instead of vigorously rubbing shampoo in - smooth any product through it with your fingers.
When shampooing, don't be tempted to pile hair on top of your head whilst you wait for the shampoo to do its magic - keep your hair down!
Use a natural conditioner / hair detangler on your hair afterward.
Instead of towel drying your hair by rubbing it, gently squeeze excess water out.
Allow your hair to air-dry somewhat before attempting to comb it through - hair is at it's weakest when it's soaking!
Finally, gently brush through your hair with a detangling brush. These brushes can be used on wet or dry hair and tend to pull a lot less than traditional hairbrushes because of their densely-packed, friction-free bristles.There are lots of detangler brushes on the market, but if you're looking for something a little more eco-friendly, we recommend any brush that is made from sustainably sourced materials, such as the 'So Eco Biodegradable Gentle Detangling Brush'. This special brush is made from eco pond, a fully compostable material that is ethically sourced, compostable, recyclable and biodegradable.
More Advice?
If you'd like any more advice on organic conditioner or any of our products, please do email us – customercare@odylique.co.uk, add your question as a comment below, or call 01638 491022 – we're here to help!